Our Toolkit: The Net-Scale Integration Engine
The Integration Engine is a structured system of mature software libraries, and application frameworks. It provides an ideal toolkit for application innovation, the unification of disparate infrastructure, and for the rapid creation of prototypes to demonstrate and test new concepts.
It has evolved over many years providing and delivering industrial-strength applications and mission critical solutions, passing the most stringent industry-standard and FDA regulated quality controls.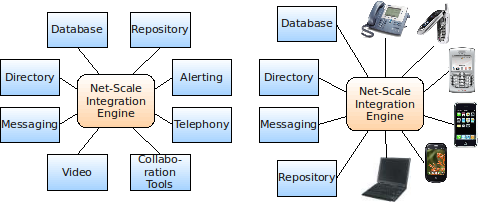 The Integration Engine includes capabilities for:
Integration and unification of disparate databases
Process management with support for web services
E-mail, voice mail, and fax access and processing components
Carrier-scale web, wireless, and phone user interfaces
Call control interfaces for voice, IP-telephony, and video
Data encryption components
SyncML server components